This sounds like a fun way of getting to know my blogger buddies a little better... it's Five Question Friday from Mama M over at
My Little Life
, head on over and check her out! Here we go:
1. Did you pass your driver's test on the first try?
I did! I think I would have died if I didn't... I bought a (crappy) car and had been just looking at it for weeks.
2. What is your most embarrassing moment?
Second date with my husband, I made dinner and while eating I bit down wrong and broke off my fake (front) tooth. I was horrified, he said "Let me see" so I showed him and he said "Oh, no big deal, I have the same thing..." (He doesn't, but I didn't know that and it made me feel so much better. I think I fell in love with him right then and there).
3. What TV show would you like to be on- Oprah, Biggest Loser, or What Not to Wear?
Hmmm, I don't think I want to be on Oprah because that would mean that something tragic probably happened to me. I don't necessarily need to be on Biggest Loser, but I'd like to go somewhere away from everyone where I could learn to eat better and have someone kick my ass into shape multiple times a day. However, What Not to Wear would be the fun one. I always wish someone would nominate me, I don't know anything about fashion and I wear the same thing Every.Single.Day.
4. Would you ever get plastic surgery and what kind?
Heck yeah! I'd love to have new boobs, they were so great before I had a baby. And while I'm under, I may as well have a little lipo here and there:-) But these won't happen until money starts to sprout out of the ground.
5. What are your favorite jeans to wear?
My David Kahn's, without a doubt... I have three pairs and I can't stand to wear anything else, ever. Even my husband thinks that they are worth every penny of the $175 pricetag. If you know my husband, you know that is a pretty amazing fact.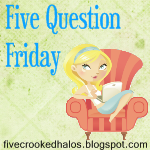 This was fun... I think I'll try to make it a regular thing around here.